Welcome to Willimantic!
Come for dinner, visit friends, dance to the music, and enjoy the beautiful historic architecture.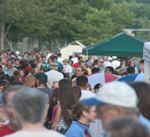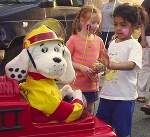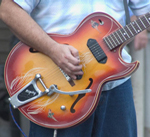 September 10th, 2021
Dear Sponsors, Vendors, and Friends,

In consideration for the Willimantic community and our neighbors, this year's 3rd Thursday Street Fest is cancelled. We received word today from the Connecticut state government and the town hall that Windham County has fallen into the red zone for COVID infections.
We all love the 3rd Thursday Street Fests because we care about our community and enjoy gathering with each other. The 3rd Thursday Street Fest features food and beverages which requires us to interact with our neighbors without our masks, and joyfully attracts many children who cannot get vaccinated. This makes for a high-risk evening and this was a very difficult decision to make. The choice to cancel is both data driven and driven by our concern for you. It was made in conjunction with Windham town officials, the board of directors of Willimantic Renaissance Inc, and the coordinators.
We thank everyone deeply for donating your time or helping to finance the Fest this year. Donations for the 2021 season were partially used in planning and will continue to be used next year for the 2022 season.
The Street Fests will remain strong and resilient as we look to the future. Thank you for the love and continued support as we navigate this new world.
We WILL see you next season.
Erin and Jean
3rd Thursday Event Coordinators
Come for dinner,
visit friends,
dance to the music,


and enjoy the beautiful architecture.
Thousands of people from far and wide will stroll along Main Street Willimantic amid a background of musical, theatrical, visual, and olfactory delights.
There are bands and jugglers to entertain you as you meander through the fest. Five stages simultaneously host a wide variety of music and entertainment while over 100 local and regional crafters and vendors showcase the wealth of goods produced in Connecticut. Willimantic's diversity really shines through in the delicious authentic international cuisine. Enjoy locally produced artwork, beer, music, and soda. Free children's activities abound!

Brought to you by Willimantic Renaissance, Inc., a grassroots 501(c)3 non-profit organization formed to revitalize downtown Willimantic by celebrating diversity, building community and attracting consumers. 3rd Thursday Street Fests are truly a community event.
Free Parking Free Admission 6 - 9pm
Thank you to all our volunteers, it can't happen without you. Please be sure to thank our generous Sponsors for their support. Would you like to be a Sponsor or a Friend? Without your help the Fests would not be possible.


If you would like to work with the 3rd Thursday Street Fest team as a volunteer or fest helper, please view our Employment page.
2022 FESTS
Click Month For Full
Schedule of Activities
---