Welcome to Willimantic!
Come for dinner, visit friends, dance to the music, and enjoy the beautiful historic architecture.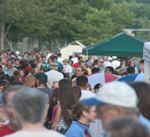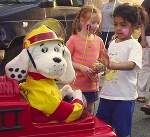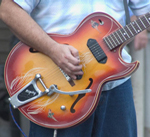 Thread City Hop Fest April 30th
---
The 16th season of Willimantic's 3rd Thursday Street Fest kicks off on Thursday, May 18th BUT the next opportunity to get together in Willimantic while enjoying craft beer from 70+ breweries, eating great food and listening to live music takes place this Sunday, April 30th at the Thread City Hop Fest.

Look for Willimantic Downtown's A Cupcake for Later, Cafémantic, Grounded Coffee Company, Leaf and Flour, and Willimantic Brewing Company!

The Hop Fest is a fundraiser for The No Freeze Project, Willimantic Renaissance, Inc. (that's us!), Vulturetown Arts, Windham Area Interfaith Ministry and Horizons - Camp Horizons.

Get your tickets very soon! This event sells out. bit.ly/ThreadCityHopFest2017
Romantic Willimantic TShirts
available in downtown Willimantic at the BENCH Shop and the Mill Museum (Men's and Children's sizes), and Swift Waters Artisans Coop (Men's and Women's sizes).


Every 3rd Thursday from May to September, thousands of people from far and wide stroll along Main Street, Willimantic amid a background of musical, theatrical, visual, gastronomic, and olfactory delights.
Five stages simultaneously host a wide variety of music and entertainment while over 100 vendors showcase a variety of handcrafted goods and services. Willimantic's diversity really shines through in the delicious authentic international cuisine. Enjoy locally produced artwork, beer, music, and soda. Street performers and free children's activities abound!
Free Parking Free Admission 6 - 9pm
THANK YOU to all our volunteers, it can't happen without you. Please be sure to thank our generous Sponsors for their support. Would you like to be a Sponsor or a Friend? Without your help the Fests would not be possible.


Be a "Friend of the Fest"
Each Fest costs about $20,000 to produce. Fortunately, almost $10,000 is covered through in-kind services and volunteer labor, so our 'cash' cost is only about $10,000.


With that, we pay performers and sound, and for advertising, insurance, port-a-potties, postage and other fest expenses.

About 1/3rd of our revenue comes from vendor fees (support our vendors!), another 1/3rd comes from beer and wine and button sales. The final 1/3rd comes from fundraising: from folks like you.

We make a little some months, we lose a little sometimes.
While it's exciting to live so close to the edge, we know that many, many festival goers would be happy to make a small contribution to support all of this volunteer work. We know that you'll be proud to see your name listed as a "Friend of the Fest" in the monthly program. And, we'll send you a Fest Button, which gives you a 20% discount in the Beer and Wine Garden.
It's easy
- all you have to do is drop us a note and enclose a check for $30 made out to WRI (Willimantic Renaissance Inc.)